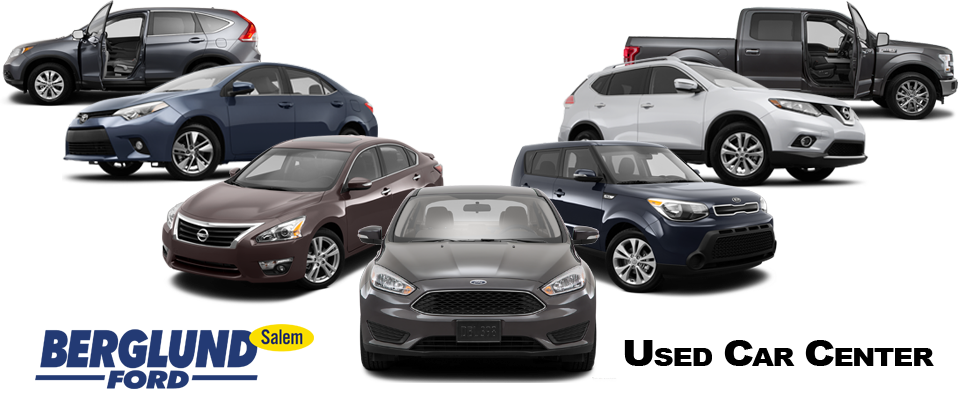 Used Cars for Sale in Salem, VA
If you've been wanting a vehicle but aren't sure you can afford a car with a brand-new price tag, Berglund Ford of Salem is here to help. We understand that shoppers want the most from their purchase. That's why we provide a wide range of vehicles in our inventory, including pre-owned vehicles.
At our dealership, we want our customers to get the vehicle they've been searching for at an incredibly low price. We even offer a section of vehicles under $10K for those seeking a special bargain! Although we have Ford in our name, we stock our inventory with a large number of vehicles from a variety of manufacturers. We understand that our customers are diverse and we want to offer a selection that reflects that.
Some people are concerned when it comes to purchasing a used vehicle. We understand that you might have your reservations, but we're here to help. Our trained technicians thoroughly inspect and examine each vehicle before listing. Rest assured, you're in good hands when you choose a vehicle from our selection.
Why Buy Used from Berglund Ford of Salem?
There are many benefits when it comes to purchasing a vehicle at our dealership. Not only can shoppers get a vehicle at a low price, they also have several opportunities. Some of the benefits that our customers enjoy include:
We offer a large selection of used vehicles in our pre-owned inventory.
We provide a state-of-the-art repair shop at Berglund Body Works.
Our inventory includes a selection of used cars under $10K.
We stock vehicles from a wide range of manufacturers.
Our technicians will provide top-quality service in our service center.
We offer special financing options.
As you can see, our dealership provides more than just great prices. We give shoppers plenty of ways to save, as well as ways to maintain their vehicle. Reach out to us if you have any questions.
Berglund Ford of Salem: Offering a Large Inventory for Shoppers
At Berglund Ford of Salem, we want you to feel comfortable not only in your vehicle, but with your purchase as well. What better way to get a feel for your vehicle than to schedule a test drive? Our employees look forward to assisting you with all of your car-buying needs.
Come see us today at 834 East Main Street, Salem, VA 24153. Our convenient location is easily accessible for residents in Roanoke, Salem, and Blacksburg. If you're in need of a vehicle, be sure to think of us first. Our associates are ready to help answer your questions and assist you in any way. Visit us today to learn about all the incredible savings.